Linking Your Social Accounts with Zocle
Before you begin using Zocle, you need to link at least one of your Social Network Accounts.  This is so you can pull in your feed of posts and tweets, but more importantly, so you can share and post your content (such as articles and blog posts) from Zocle to your social accounts. Associating your social accounts is very easy and only takes just a couple of clicks.
Currently you can link your Facebook, Twitter, Instagram and Reddit accounts with Zocle (you can also link your Drupal and WordPress Blogs too!)
View this tutorial as a video!
Linking Social Accounts
To link a Social Account with Zocle, click the Linked Accounts link accessed by clicking Add Column (or in the Settings menu).
This will open the Add Feeds interface to the Linked Accounts tab. This is where you add and manage your social accounts that are linked with Zocle.
In the top right corner, a count of how many Social Accounts you can link will be displayed (this depends on the Plan you have purchased).
Linking a Social Account
In this tutorial, we will be linking a Facebook account with Zocle, but the instructions are the same for Twitter or Instagram.
Click the Facebook button at the top of the interface (next to the text: Link a New Social Account).
This will immediately launch you into Facebook (if you are not logged in, at this point Facebook will ask you to login).
Facebook will ask you a series of questions verifying that you are allowing Zocle permission to post  and manage you pages.  Click OK to all of the popups.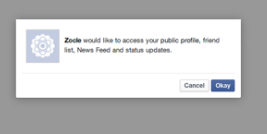 Once you have finished approving the Facebook permissions, you will be redirected back to Zocle. A confirmation will display indicating the account and all of the associated pages that were linked to Zocle.
Going back into the Linked Accounts interface, you'll see all of your linked Facebook accounts listed in the left-hand results pane.  From here you can add your linked accounts as feeds to your dashboard, or unlink them from Zocle.
Managing your Linked Account: Add as a Feed to Your Dashboard and Unlinking from Zocle
By clicking on a linked account in the left hand results pane, you can get an overview of details regarding that account.
From the Profile Information, you can add the Account to your Dashboard (this will add the feed as linked account which gives you access to act as that account) by clicking the Add Account to View button.
This adds the feed to your dashboard in the current Tab.
If you no longer want a Social Account linked with Zocle, you can click the Unlink Account button to remove it completely from Zocle.