Linking your Drupal Blog with Zocle
Linking your Drupal Blog with Zocle allows you to post directly from Zocle to your Drupal Website.  It only takes a couple of clicks to link!
Click the B+ button in the Compose Pane (or click the Linked Accounts link after clicking the Add Column button).
…or if you already have a Blog linked with Zocle and you want to link another, Click the Link a New Blog button in the Blog dropdown menu.
This will open the Your Linked Accounts window.
All the networks you can link with Zocle are listed across the top of the window.  Select the Drupal icon next to Link a New Blog.
The next screen is a form that you will enter your Drupal credentials
Enter the Name of your Drupal Blog
Enter the HOMEPAGE URL of your Drupal Blog
Enter your Username and Password to your Drupal Blog
If you entered all the correct login credentials on the last screen, you will be greeted with a success message!
IMPORTANT!!!!
Did you get this message after Linking your Drupal Blog?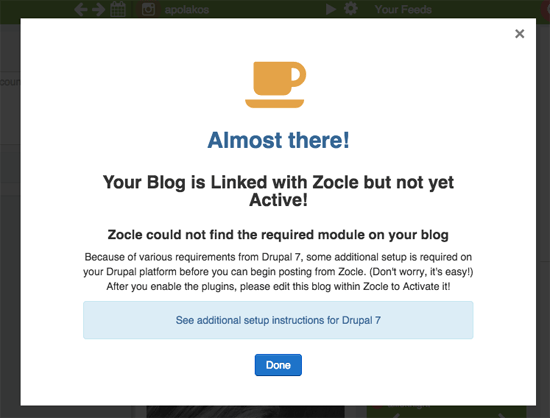 This is an indicator that some additional setup is needed on your Drupal installation to fully link with Zocle.  If you haven't already added the Zocle Modules to your Drupal installation, You aren't done yet and you won't be able to post from Zocle to Drupal just yet! You can view those full instructions HERE.
Editing or Unlinking Your Linked Blog
To Edit or Unlink a blog from Zocle, click the gear icon next to the selected blog in the Blog dropdown menu.
In the Edit Blog Window, you can change the Name, URL, Username or Password or completely unlink your blog from Zocle.