Installing the Zocle Modules in your Drupal Installation
Before you begin posting to your Drupal account using Zocle, you first need to install a number of modules into your Drupal 7 installation.  Adding these modules allows Zocle to communicate with your installation of Drupal 7 and is required if you intend on posting to your Drupal 7 website from Zocle. It is recommended that you install the modules in your Drupal installation before associating your Drupal account with Zocle.
If you Linked your Drupal Blog with Zocle and saw this message, then you still need to install the Zocle modules in your Drupal Installation: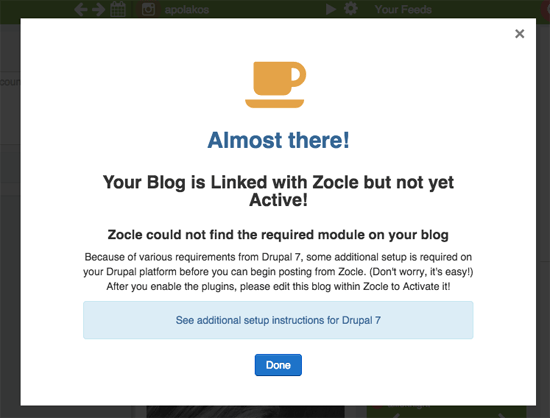 You may also notice that your Drupal Blog is disabled in the Blog dropdown menu.  This is another indication that the necessary modules have not been installed.
Downloading the Drupal Modules
1) TheThe following Modules need to be downloaded.  Just download them to your Desktop or a folder where they can all be arranged together.  Each module is required, so it is important they are kept together.
2) On each of these download pages, scroll down to the bottom of the page to the Downloads section.  Select the Version for 7.x and click the download link for zip.
3) Do this for each plugin (there are four all together)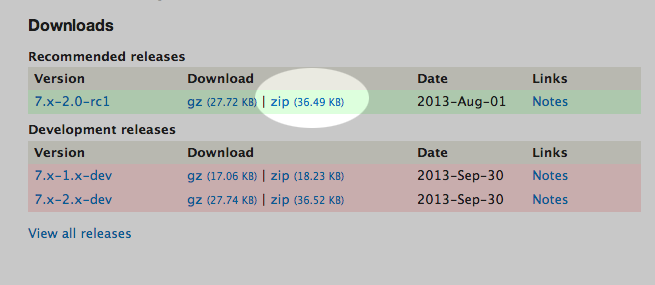 Activating the Drupal Modules
1) Login to your Drupal 7 website. and select the Modules link in the top menu.

2) Scroll down to the Services section.  This is where you will be activating the modules you just uploaded.
3) Check the Enabled Checkbox next to these two modules:
MetaWeblog Provider for BlogAPI
ZocleMoveableType Provider for BlogAPI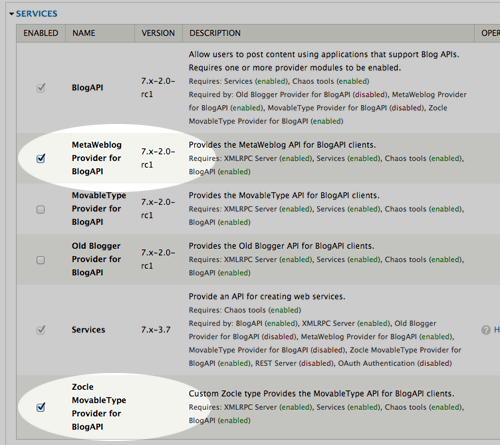 4) After enabling the two modules, click the Save Configuration button at the bottom of the screen.

5) A popup will display indicating that more modules must be enabled for the modules you selected to work.  Click the Continue button to also enable the selected modules.

Configuring the Drupal Modules
1) Next, click the Configuration link in the top Menu.

2) Scroll down to the Web Services section and click the BlogAPI link.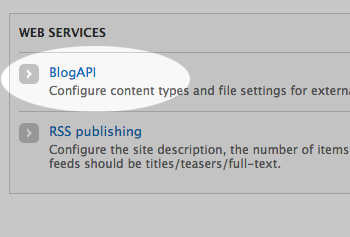 3) In the API Configuration section, make sure that MetaWeblog is selected.
4) In the Node Types section, select the Node Type that is used for Blogging on your website.  By default, Article is selected.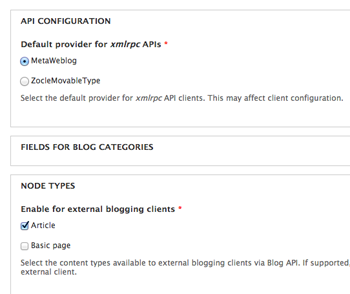 Activating the Drupal Blog in Zocle
If you linked your Drupal blog with Zocle before installing the modules, you'll need to Activate the blog in Zocle.
In the Blog dropdown menu, select the gear icon next to the Drupal Blog (it should still show as disabled)
In the Edit window, click the Activate button.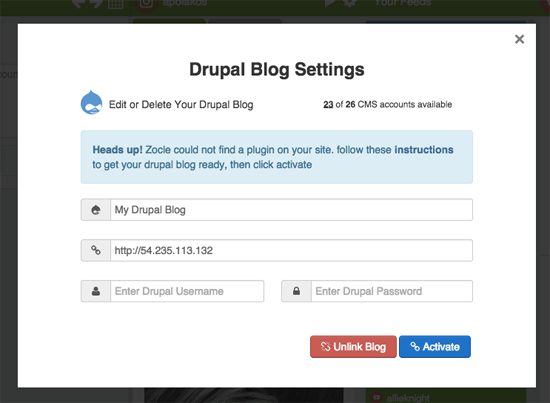 As long as the modules were installed correctly, your Drupal Blog will now be active, allowing you to post from Zocle to your Drupal blog.