Creating Tabs To Share With Teams and Your Company
If you want to be able to create Tabs that you want other members of your company or Team(s) to have access to, you can by having access to Tab Management.
When you have access to Tab Management, you have access to two completely separate dashboards where you can curate Tabs to share with other members of your Teams and your Company.  If you curate a Tab full of Sports feeds, you can share that Tab with your Sports Team.  Or perhaps you have a Tab of news from different locations.  You can share each Tab with the Team that writes content for each location.  Or perhaps you have a Tab with news that Tab with your entire Company at once.
An even more powerful tool at your disposal is the ability to push Tabs out to members of your Teams.  By pushing out a Tab, the Tab instantly appears on their Zocle dashboard.  This is handy when you have feeds that need to get to a Team(s) NOW!
How do I get access to create Tab Management?
Depending on your contract, you can just contact a Customer Support rep here at Zocle and we'll hook you up!
Who can Share  / Push Tabs out to?
You can share or push Tabs out to any Team or Teams that you are a member or manager of.  (Need a refresher on creating Teams?  Check out this tutorial!)
How Do People I share Tabs with access them?
Good question!  When a user opens the Add Tab popup on their dashboard, if there has been any Tabs shared with a Team they are a member of they will see a menu at the top of the right pane that allows them to access the Tabs shared with the Teams they are members of.
In the animation below, the User has access to two Teams that have Tabs shared to them (Marketing and Everyone). He or she can click the dropdown to view Tabs from any Team they have access to.
There is also another Menu item for Your Company, this shows the Tabs that have been shared company-wide.
All they have to do is click on the Tab name and it will be added to their dashboard along with all the feeds in it.
Also in the animation, you can see that the user goes back to viewing the Zocle-curated tabs by clicking the Zocle Library button.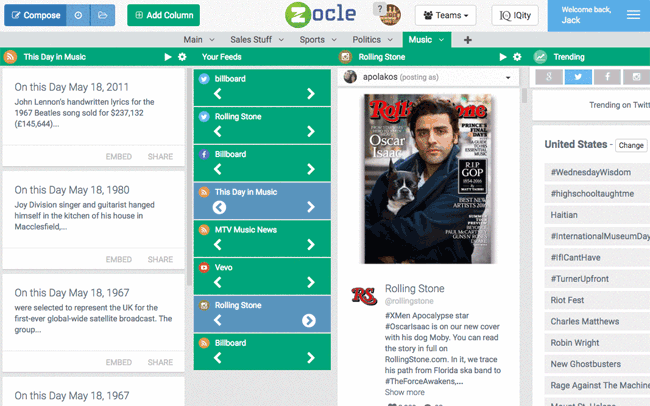 So let's learn how to get these Tabs out to your Team mates!
Creating and Sharing Tabs to Teams
As noted earlier, when you have access to Tab Management, the Tab you create to share with Teams or Your Company are created in separate dashboards than the one you use on a daily basis (this is so you keep your curated Tabs for your Teams and Company separate and don't accidentally add / delete feeds to them that you may not want to share).
To access the Team Library or Company Library of Tabs, click your user menu in the top right corner of the header and select either Team Library or Company Library.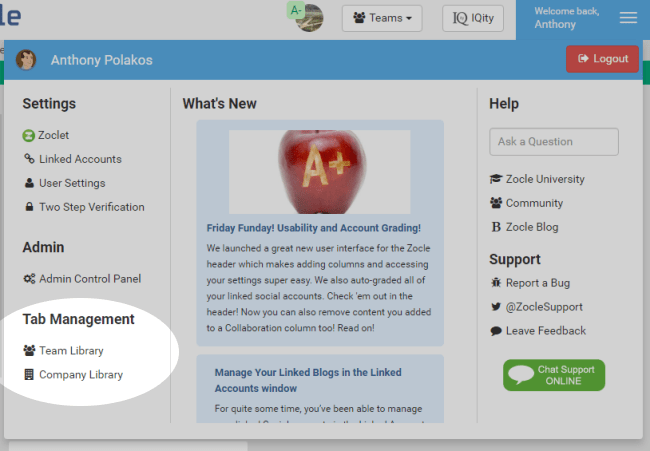 Let's Start off by clicking the Team Library
This will reload Zocle and bring you to the Team Library Dashboard.  You'll know you are in this separate dashboard because the Tab bar is yellow as shown in the image below.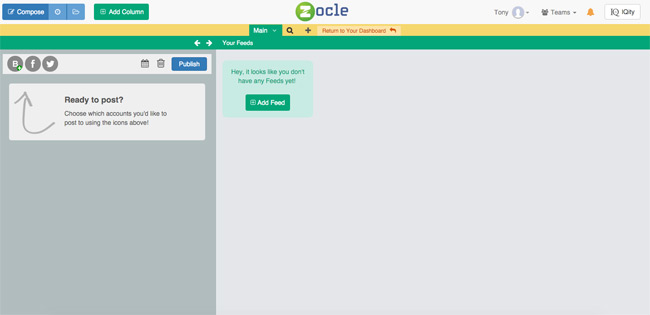 Just so you know you aren't stuck in this mode forever, you can return to your regular dashboard at any time by clicking the Return to Your Dashboard button in the Tab bar.

Creating a Tab For Sharing
Creating a Tab for Sharing with Teams is done exactly like creating a regular Tab, click the Add Tab "plus" button in the Tab bar.

This will bring up the Add Tab window, which at first looks just like the one you would see on your dashboard  (note: you can add Zocle curated Tabs to your Teams Tab Dashboard, edit them and re-share them out to your Teams)
Things get a bit different when you start creating the new Tab.  Once you begin entering the Name of your Tab, the Team Tabs action menus slide out.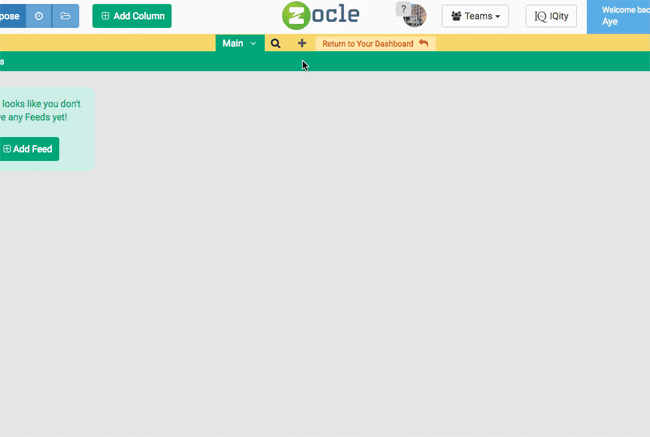 Give your Tab a Name and (optionally) a Description.
Let's a take a look at some of the other options you have access to when creating a Team Tab (note:  you get even MORE options once your Tab is created and you are editing it!)
The options on the left side allow you to choose which Teams to share the Tab with and buttons to Activate the Tab and Push to Teams During Setup  (more on that in a bit).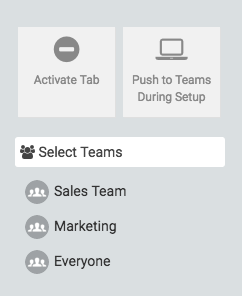 To share the Tab with a Team, simply select the Team (or Teams) you want to share it with.  You also must Activate the Tab in order for the Tab to display for users within those Teams.
In the animation below, we are sharing the Tab with the Sales and Marketing Teams and activating the Tab.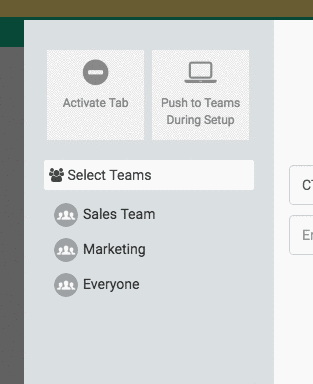 The options on the Right side of the Add Tab popup allow to select an icon to represent the Tab for your users and set a sort order.  The sort order allows you to have your Tabs display in a specific order when you are sharing more then one with a Team.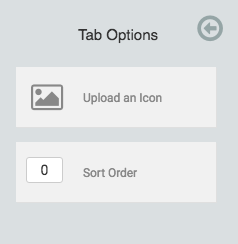 Here's the Tab with an icon uploaded.  (Need an icon to use?  We use https://icons8.com/  The icons are high quality and FREE!)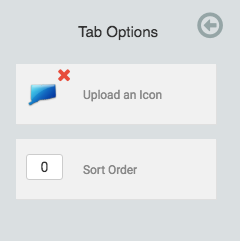 Once you have all the options for the Tab set, you can click the Create Tab button.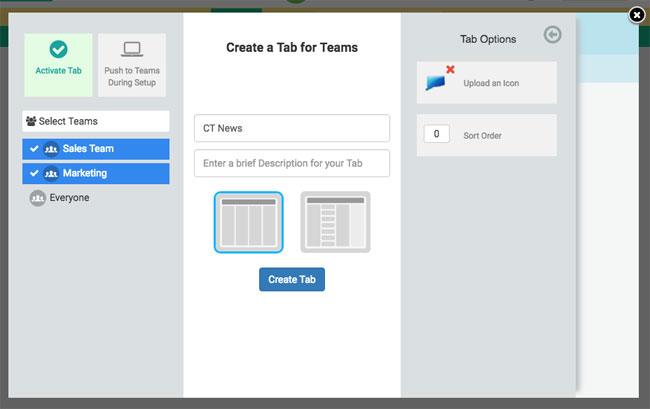 Once you save the Tab, it will be added to your Tab bar.  Note that Tabs that are ACTIVE will have a green checkmark next to the Tab name in your Library dashboards.

At this point, you can go ahead and add the columns to the Tab.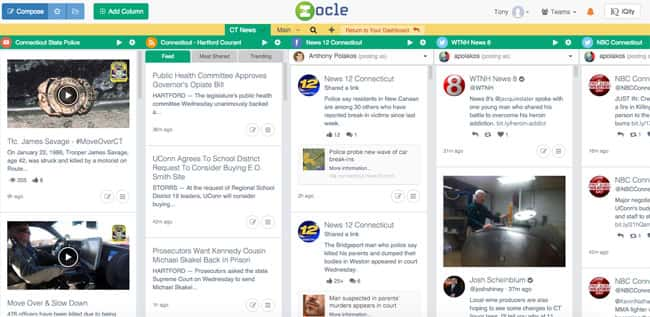 Important Note:  Since we activated the Team Tab when we created it, the Tab was available to users in the Team we shared it with as soon as we added our first Column.  It is usually a much better idea to create the Tab, add the feeds and when you are complete, THEN Activate the Tab so Team Members don't add it to their dashboards until it has all the feeds you want to add.
Users in the Sales and Marketing Teams will now see the Tab we just created in their Add Tab window when selecting the Sales or Marketing Teams in the Teams dropdown.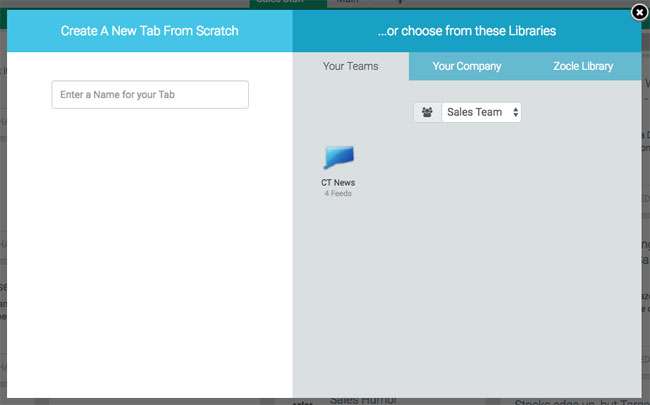 Editing a Team Tab
When you edit a Team Tab, you get one additional option.  The ability to PUSH a Tab to all the members of a Team.  This means as soon as you perform the action of pushing the Tab, it will instantly display on all the user's dashboards.
Pushing a Tab
To Push a Tab to a Team, just Edit the Tab you want to push by clicking the gear icon (or the checkmark if it is active)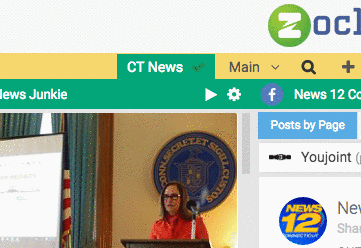 Now in the right column you will see any extra button to Push Tab to Teams. Click the button, select the Team(s) you want to push the Tab to and click the Push Tab to Teams Now button.  The users in the Teams you selected will instantly receive the Tab on their dashboard.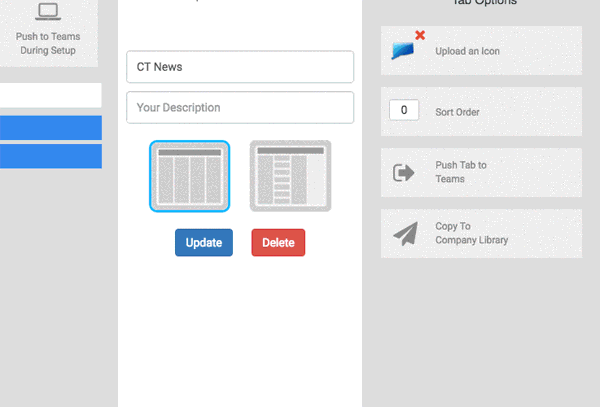 Pushing a Tab During User Setup
The Push to User During Setup button only affects NEW Users that are created after you activate this Tab.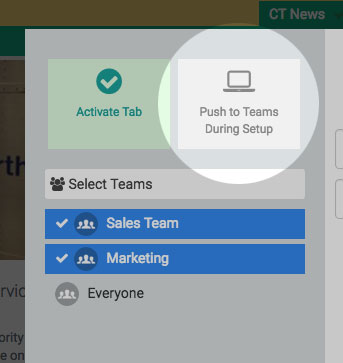 When a new user signs in for the first time, they are brought through a setup process to setup their account.  The last step in the process allows them to choose a few categories to pre-populate their dashboard.
When you have any Tabs set to push during setup for a Team, any user in those Teams will skip the category step in the setup process and automatically be brought to their new Zocle dashboard with the Tabs you Pushed to them during Setup..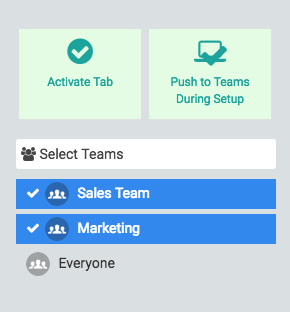 Copying a Team Tab to a Company Library
You can also copy a Tab from Your Team Library to your Company Library by clicking the Copy Tab to Company Library button.  This will make a copy of the selected Tab in your Company Library and Activate it in one step.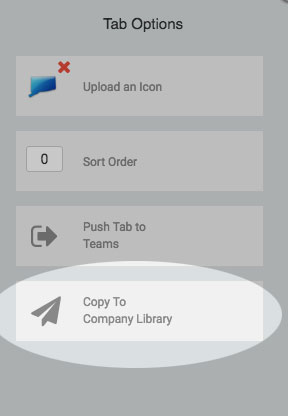 Company Library
Creating Tabs for your Company works exactly like Teams, with a few exceptions.
You create Company Tabs in the Company Library dashboard.
You don't select which Teams get access, everyone in the Company gets access to any Active Tab in the Company Library.
There is no Pushing of Tabs
You access the Company Library from the Tab Management section of the User Menu.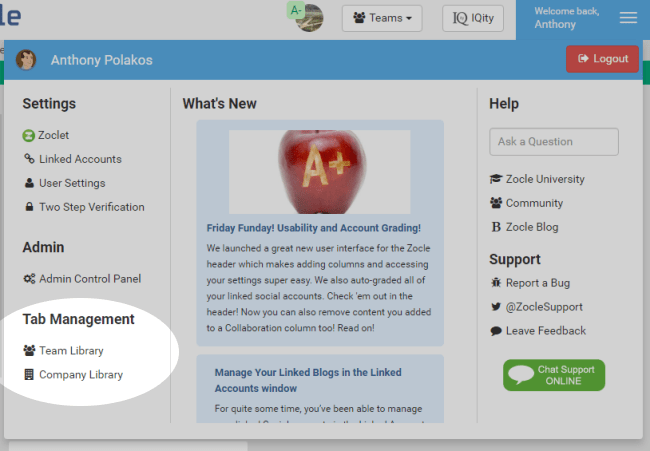 You'll know you are in the Company Library because of the blue colored Tab bar.

When creating a Company Tab, the only options are to Activate, upload a Tab icon and Sort order.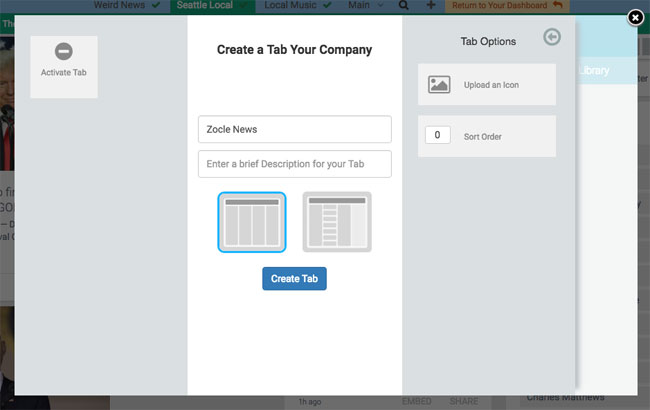 Just like with Teams, once you activate a Company Tab, ANY user in your Company will be able to access it in the Your Company Menu in the Add Tab interface.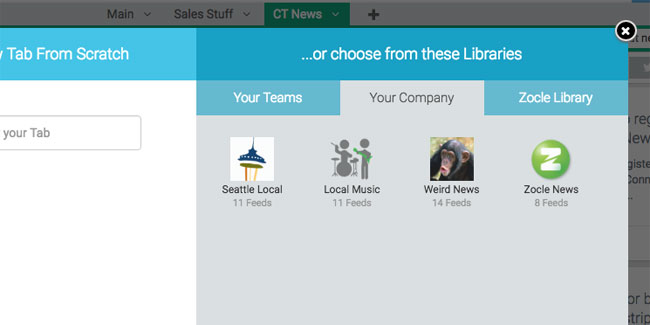 Deactivating a Tab
A Tab will be deactivated for a Team or Company when any one of the following occur:
The Tab is deactivated by clicking the Activate Tab button is toggled off.
The Tab is deleted.
The sharing is removed for the Team in the Tab (Teams only)
The Team it is shared with is deleted. (Teams only)